Welcome Reception
On Oct 2nd Sunday, there will be a welcome reception in the science culture center of IBS(2nd floor), and on-site registration.
Oct 2 Sunday, 4~6 PM : Registration & 6 ~7 PM : Reception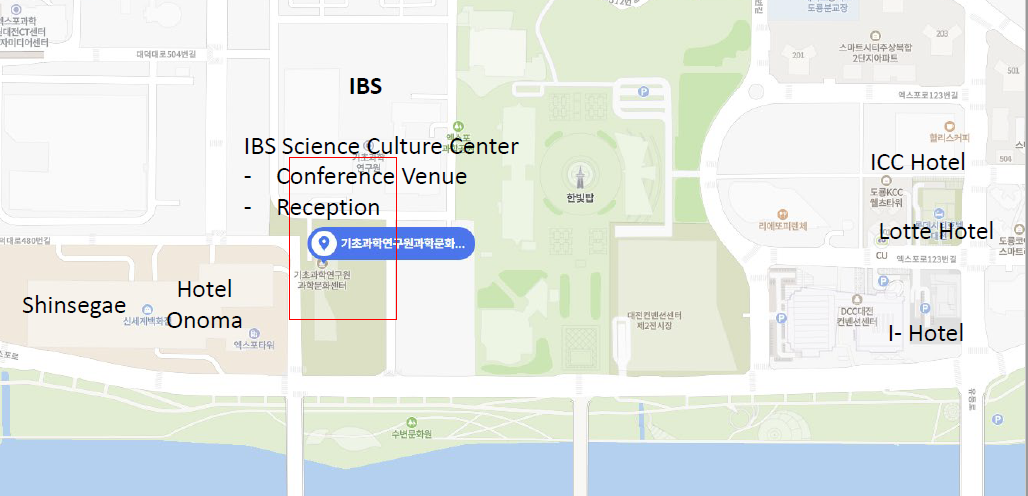 Excursion
Technical Tour to RAON
On Oct 5(Wed), the RAON accelerator facility of IBS will be open for the technical tour right after the morning sessions. We will take you to the RAON campus by bus "immediately" after the morning session. There will be three buses for three groups. Lunch will be provided when you arrive at the RAON campus. After a quick lunch, the tour will start.
Excursion to Gongsan Fortress
After the technical tour, we will take you by the same bus to a city called Gongju (https://en.wikivoyage.org/wiki/Gongju) . We will visit a fortress called Gongsanseong Fortress and return to Daejeon.
Gongju Gongsanseong Fortress is Historic Site No. 12, located in Sanseong-dong, Gongju-si, Chungcheongnam-do. It is 110 meters above sea level.

It was a fortress during the Three Kingdoms Period, and it was a capital city from Hanseong to Ungjin in the first year of King Munju (475) of Baekje until it was moved to Sabi in the 16th year of King Seong (538), and then was an administrative and military hub during the Silla, Goryeo, and Joseon periods. It is a pogok-type(built along a valley) fortress with a total circumference of 735m of the earthen fortress in the Baekje period, 1925m of the stone fortress in the Silla period, and 2,660m.
The Geumgang River flows to the north of the fortress and is a natural fortress located on a ridge of 110m above sea level, forming a rectangular shape of about 800m from east to west and about 400m from north to south. The fortress is 2,660m long and is a pogok type built along the ridges and valleys, and was originally an earthen fortress during the Baekje period, but was rebuilt as a stone fortress for most of the Joseon Dynasty. At the 39th UNESCO World Heritage Committee (WHC) held in Bonn, Germany on July 4, 2015, two Baekje Historic Areas (Gongsanseong Fortress, Songsan-RI Ancient Tombs), four Buyeo (Gwanbuk-RI Historic Site, Neungsan-RI Ancient Tombs, Jeongnimsa Temple Site, and Naseong) passed the World Heritage List. The World Heritage List was selected for the first time in Chungcheong Province.
Banquet
On Oct 6 Thursday, EMIS 2022 conference dinner will be served at the Grand Ballroom (5th floor)of Hotel Onoma nearby the science culture center of IBS in Daejeon.